Technology leaders still have work to do when it comes to balancing their ambitious innovation strategies with organisational priorities and a host of business challenges, according to a new Protiviti survey of more than 1,000 CIOs, CTOs, CISOs and other senior technology executives around the globe.
As technology leaders navigate the hype cycles of emerging technologies – like Web3 and the Metaverse – they are also contending with obstacles such as technical debt, a shortage of talent and skills and a turbulent global economic environment, which is prompting companies to examine their broader innovation strategies along with their spending on new technologies.
While the Protiviti study, entitled, Global Technology Executive Survey: The Innovation Vs. Technical Debt Tug of War, found that most (79%) organisations reported having defined innovation goals, only 54% of organisations responded that they have a clear innovation strategy in place, raising the possibility that many companies have yet to think through how to align their investments in innovation with broader business objectives.
"When it comes to developing smart innovation strategies, technology leaders must ask themselves if they're innovating to achieve a specific business goal," said Kim Bozzella, Global Leader of Technology Consulting, Protiviti. "It's easy to fall into the trap of innovating for the sake of innovation. This is especially important as the uncertain economic outlook prompts companies to scrutinise every dollar of spending to ensure it benefits the bottom line. Creating a roadmap that measures immediate and long-term innovation progress and how these investments map to business objectives is critical to navigating the current business environment."
Obstacles to innovation
Technical debt, the accumulated cost of maintaining and supporting legacy IT systems, is a leading obstacle that impacts nearly 70% of organisations' ability to innovate – and is expensive to tackle. On average, surveyed organisations invest more than 30% of their IT budget and devote more than 20% of their resources just to tame technical debt.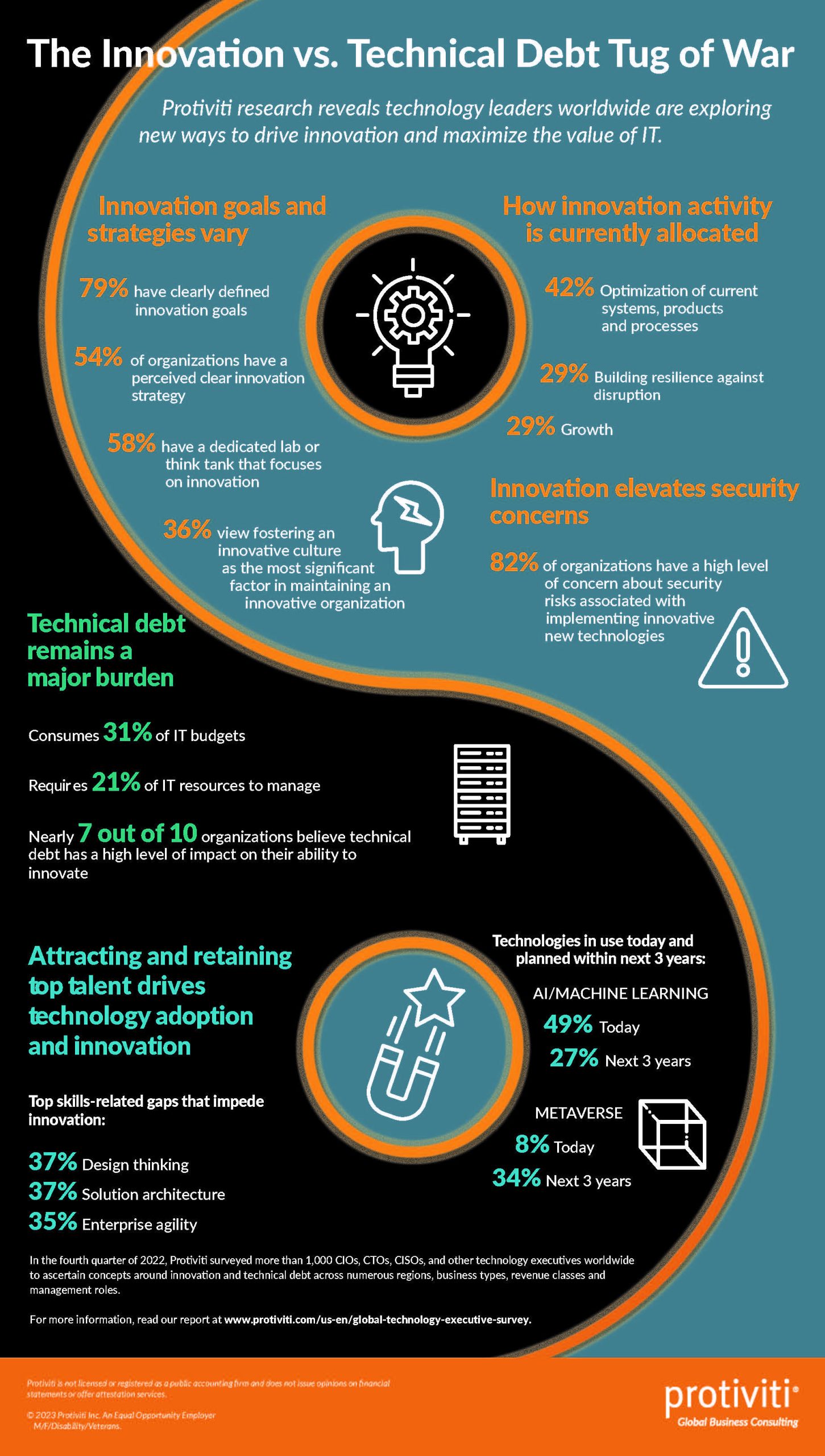 The talent war – one of the top risks facing organisations today – is also affecting technology teams, challenging leaders to attract and retain top talent. Complicating matters is the need to ensure that new hires and current technology employees have the necessary skills for the next generation of emerging technologies. Among respondents, the largest talent gaps organisations face are in the areas of design thinking (37%), solution architecture (37%), enterprise agility (35%) and technical knowledge (31%).
Strategies for driving technology adoption and innovation
While cloud and the Internet of Things (IoT) have become table stakes for organisations, the pace of their adoption is showing promising signs for other emerging technologies. Among the top technologies organisations are planning to implement in the next three years are:
Web3 (41%)
Robotics (38%)
Low code/no code platforms (38%)
When it comes to the use of innovation strategies, 94% of organisations are employing agile development and 65% have found it delivers the results they wanted; while 90% of organisations are using design thinking and 57% have found that strategy delivers desired results.
Click below to share this article