Sumanta Roy, Vice President & Head of Middle East Africa, TCS, speaks to Intelligent Fin.tech about the banking and financial industry in the Middle East, how TCS has impacted it, industry requirements in the Middle East and how businesses in this region can create an innovative ecosystem.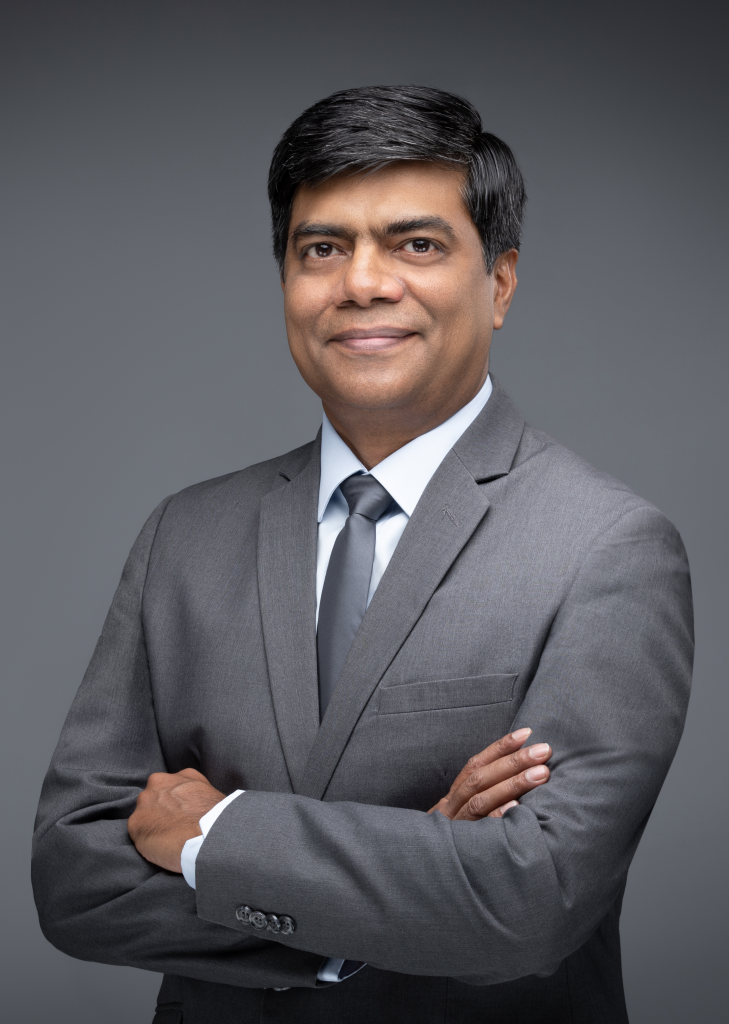 Can you tell us about TCS, its purpose, and its aims?
TCS is the business consulting and IT arm of the Tata Group and for 54 years we have been solving our customers problems through technology and domain consulting. TCS has major businesses spanning across 46 countries in Europe, North America, APAC and MEA with a turnover of US$26 billion, averagely. Our mission is to build greater futures using innovation and collective knowledge. We aim to help customers achieve their business objectives by providing innovative, best-in-class consulting and transformational strategies.
Can you describe your career journey so far and tell us about your most memorable
achievement?
I've been with the company for 30 years. I have moved across multiple roles, domains and geographies. I started as a 'techie' before moving into business functions, taking on customer-facing roles and positions across North America, India, and the Middle East. I am like a rolling stone, one that gathers no moss but instead becomes finely polished and refined.
I also worked for a short time in the acquisition division of TCS, buying IT and infrastructure for the company itself. I remember this role fondly, as I did something which I've never done before and haven't since. We were going for our IPO – one of the largest in India at that time. During the IPO process, TCS exited from a set of businesses that it had interest in and upped its stake in others. I was part of the entire decision making and the related conversations with regards to IT business. It was interesting because the output was a merger or divestiture, depending on the situation.
How has TCS changed the Middle East over the last 25 years and what is the plan for the next 25?
When we first started, we were an IT arm of a global conglomerate. The company would split up large infrastructure projects, give the IT part to us and we would fulfil that demand. Slowly, though, as global specialists, we started setting up offices all over the world, including the Middle East, where I am based today.
We have changed as our customers, employees or the law have expected us to. As I see it, those three things drive change, everything else is incidental. For example, we have set up many projects throughout the Gulf region, including our All Women's Centre in Saudi Arabia. Almost 60% of Riyadh's graduates are women and they have been traditionally confined to the public sector as well as educational organisations. We wanted to drive local talent and provide new avenues for women, so in 2014, we set up the Centre. We now employ over 1,000 female IT professionals and it is something we are extremely proud of.
Looking forward, the most important thing is to stay relevant to the geography and the customers in your region. We will stay relevant; we will make the necessary investments but simplicity is key.
How has TCS impacted the banking and financial services industry in the Middle East?
Banking and financial services is a significant vertical for TCS. If you look at banking in the Middle East, the technology is new compared to much of the western world. Unlike the west, where TCS did a lot to support the running of businesses, we've been at the forefront of digital journeys in the Middle East. For example, Bahrain was the first Gulf nation to have a legal framework around Open Banking. We worked with one of the banks in Bahrain to set up an Open Banking framework, which enabled the bank to easily communicate with multiple ecosystem partners.
From a product perspective, our core banking product, TCS BaNCS, is used by multiple banks across the Middle East. In addition, lots of financial institutions use our enterprise payment hub platform for making multi-currency payments across the globe.
We're also assisting mergers. The UAE had more than 40 banks and the sector is going through a lot of mergers currently. We have been helping in the mergers, both from an IT perspective as well as defining what the merged entity will do in terms of processes.
Additionally, when there is a change in the law, financial institutions have 30 days to comply and there is a bubble load on banks. We also are helping them address these bubble loads.
Can you identify emerging trends in the sector and how have FinTechs shaped these? 
Today, FinTechs have a big role to play. They span industries and can meet the specific needs of a company or trend. With this in mind, Open Banking has already been mentioned as an emerging trend and there are several data points unique to it that only FinTechs can meet quickly and efficiently.
Another trend is Buy Now Pay Later (BNPL). FinTechs are important to this as they help in identifying underlying risks quickly and they can pass on acquired contextual knowledge to banks to help them with BNPL.
The third trend is offers, specifically analytics and insights, which are distinct for an individual or company. This is driven heavily by FinTechs as well, as they have Points of Presence (PoP) around data.
Cryptocurrency is yet to enter the regular banking sector but I'm sure it will, and when it does FinTechs will also be a big player.
How has the UAE government supported FinTechs and wider organisations within the financial sector?
There are a few ways the UAE government is supporting FinTechs. One is creating bases for start-ups, such as Hub71 in Abu Dhabi, meaning that there is now a well-laid-out plan of how businesses should setup and conduct their operations with as little friction as possible.
The second area is talent. The government has made it easier for foreign talent to acquire visas and they process them quickly. All Middle Eastern countries, to some extent, are dependent on external talent to address a skill shortage, but there is also a well-thought-out approach to building local talent. TCS is proud to play a part in this and support young talent coming out of the region. In fact, our flagship programme, TCS goIT, addresses STEM education in schools, particularly for young girls. This is being driven firmly by us throughout the UAE and KSA to tackle the regional skills shortage.
What are the innovation requirements specifics to this region?
There are three specific innovation needs in the Middle East: transport, transform, and transact.
Firstly, transact is based in blockchain and the innovations happening around it, such as the dealing of multiple currencies. I might need to pay someone in GBP but my local currency is USD, so I create that transaction by exchanging those currencies.
While transport is defined as doing an activity virtually without actually being present.  For example, you can book an airline ticket sitting at home, but the ticketing is happening elsewhere – that is transportation because you are using the virtual world for something else.
Meanwhile, transform is the ability to make a contextual impact on a situation or a person. You look at a company's ecosystem and its knowledge, draw from multiple sources and produce something specific to them. An example of this is walking down the street and getting a message on your phone for a shop 30 metres ahead with tailored, personalised offers for you. As such, you're more likely to go into that shop and buy something. However, in the Middle East, we have mostly seen the first two in action, with transform yet to take off.
How has TCS built innovation ecosystems regarding these requirements and how are these aiding the aforementioned trends?
Transport, transform, and transact are concepts we're very passionate about. One example of transport is TCS designing a virtual training programme for engineering graduate trainees in Saudi Arabia. This large oil company had a complex series of pumps and the trainees needed to know how to operate them. However, due to COVID-19, they were not able to be taught in person, so we built a virtual reality (VR) platform. This platform digitally transported the teacher to appear next to the graduates and train them accordingly.
From a transact perspective, retail is very important in the UAE. We worked with one of the largest retailers in the Middle East, who wanted to build one platform to take care of all contracts, renewals, maintenance, etc. This platform was built using blockchain whereby these documents could be tracked in real-time.
In the terms of transform, not much has happened in the real world, but we are seeing more emergence within VR. For example, one of our retailer customers wanted to build a VR platform for customers to buy cosmetics. Multiple inputs were captured to build this VR like demographics, interests, social media handles, etc. During the trial phase, an interesting aspect came into notice where a left-handed woman couldn't relate with the VR experience. Through extensive research we identified the issue that this is because the VR automatically took the customer as right-handed, instead of checking the user's preference. This was a critical contextual information which was later added to the platform.
How can organisations build sustainable business ecosystems within the region?
I think the most vulnerable piece of business is the supply chain. If we look at countries shutting borders and trade routes due to COVID-19, or the Suez Canal blockade, it caused a lot of supply chain issues. Typically, supply chains are optimised either by cost or time, but it's important to have some sense of sustainability or an alternative source as it helps to rebalance it. The supply chain is exceptionally important, especially for business systems.
Material finance is also important. Given the volatility of money, you should be in a position to take calls quickly regarding multiple currencies. This is particularly applicable to the Middle East because of high exposure to different currencies, both from demand and supply.
In the long term, business sustainability in the Middle East will depend on how the revenue streams are increased. If you look at Saudi Arabia's Vision 2030 or Vision 2021 Laid Down for UAE, they all allude to green economy and non-hydrocarbon-based economy. There are some interesting things happening. For example, let us look at NEOM or even the UAE's Amal/Hope mission. The journey to Mars is not just about some 'wow' element. Such initiatives create feeder industries and whole bunch of young Emirati engineers. As the Middle East drive towards the knowledge, the need to attract knowledge workers increases. Why should a young Indian engineer from a top-notch engineering school come to the Middle East and not go to the Silicon Valley, with the dream of becoming CEO of large tech companies? The quality of life becomes important.
What has been TCS' journey with business sustainability?
We are trying to attract foreign talent and create local talent within the Middle East. We are making constant efforts towards ensuring the talent gap is being closed for future generations, as we channel young boys, and more importantly girls, towards STEM.
Be it building local skills through educational tie-ups or re-training local talent, like we have done in Saudi Arabia, or inspiring the youth through several tech-focused programs such as our goIT program, or the TCS ITWiz Quiz that was launched in UAE during Expo 2020, we are building a sustainable future for all. Another example is TCS Sustainathon, which is a global initiative, where we encourage the youth to identify tech-related solutions or policy changes for sustainability-related issues. As we speak, we are in the process of launching TCS Sustainathon in Middle East.
Ultimately, our own journey with business sustainability has kept us true to our purpose: helping customers achieve their objective through with innovative technologies and transformational strategies.
Click below to share this article